The #5 Rated Scar Product: H-Scars
H-Scars - #5
Scar Product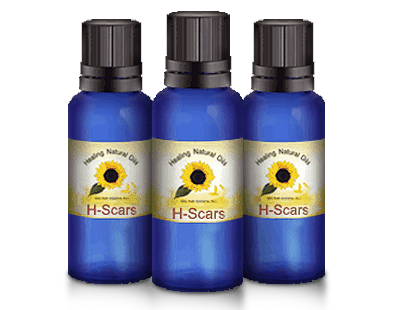 H-Scars has a good formulation that is 100% natural and organic. But it fell to our #5 spot because it has very few ingredients that are actually beneficial to the skin.
EDITOR'S RATING
24 User Reviews
Introduction
H-Scars has a good formulation that is 100% natural and organic.* The H-Scars blend has been formulated to moisturize and reduce the appearance of scars naturally.* H-Scars does include very good essential oils that are plant based and safe and has some other herbal ingredients that are known for skin nourishment.* It is formulated in the USA in a GMP listed facility.
Ingredients
Active Ingredients:
Calendula Officinalis 12C, Silicea 12C
Inactive Ingredients:
Corylus avellana nut oil, Essential Oil Blend (Cymbopogon martinii aerial parts, Daucus carota seed, Helichrysum italicum flower, Lavandula officinalis flower bud, Salvia officinalis whole plant), Ethanol, Rosa mosqueta seed oil, Simmondsia chinensis seed oil.
The homeopathic constituents in H-Scars Formula are manufactured according to the specifications in the Homeopathic Pharmacopoeia of the United States (HPUS) and are monographed for use as homeopathic ingredients.
Dosage
This is a topical homeopathic product that is to be applied externally and not to be ingested. Use 1-2 drops on your finger or on a cotton-tip applicator and gently massage into the affected areas three times per day.
Possible Side Effects
There are no side effects listed on the Healing Natural Oils' website. However, the manufacturer does state that the product cannot be used by children under the age of 4 or by women who are pregnant or nursing.
Price
H-Scars comes with a pretty hefty price tag of $69.95 per bottle, making it a lot more expensive than our top product. There is free shipping in the USA for purchases over $49 and outside for orders over $99. There is a $10 discount on your first order.
Guarantee
All products come with an unconditional 90-day money back guarantee. If you are unhappy for any reason, simply return the bottles for a full refund of your product purchase.
Conclusion
H-Scars does have some good, natural and organic ingredients and seems to be a reasonably good product. This product contains some good plant oils in its formula and does not include harmful additives or synthetic fragrances. It has a money back guarantee, which is a big positive for us. We also liked that it is formulated in the USA in a GMP listed facility. However, we would like to have seen some other known key ingredients added into their formula, such as onion bulb extract, aloe vera of tocopheryl acetate. Our biggest concern is the hefty price. Addressing scars takes time, if you purchase such an expensive product, you'll be out of food and home in no time, especially given that we found no options to buy in bulk. If the manufacturer added a few more key known ingredients and offered a discount for multi-bottle purchases, then this product might be able to move up a few spots.
Click here to learn about our Top Scar Products.
Joey Harrison
reviewed on and gave it a rating of
3
.