The #3 Rated Scar Product: Kelo-cote
Kelo-cote - #3
Scar Product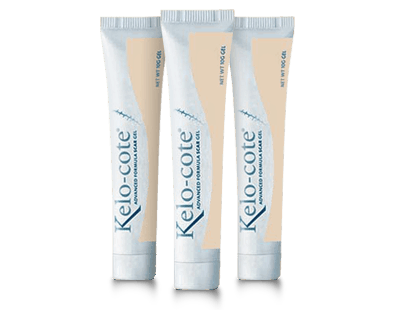 Kelo-cote uses a biocompatible and bio-inert silicone formula. It checks in at our #3 spot due to its lack of key ingredients and a money back guarantee.
EDITOR'S RATING
31 User Reviews
Introduction
Kelo-cote uses a biocompatible and bio-inert silicone formula. The manufacturer also claims that Kelo-cote is a 100% silicone gel product formulated by scientists. It checks in at our number three spot due to its lack of ingredients. It is a silicone based waterproof gel which is self-drying, odorless, and transparent when applied.
Ingredients
Polysiloxanes

Silicon Dioxide
Dosage
Apply Kelo-cote must be applied twice daily to the affected area which must be clean and dry, as a very thin coat. Once dry, Kelo-cote can be covered with make-up or sunscreen. The recommended duration of use is 60-90 days.
Possible Side Effects
When used as directed, Kelo-cote can be used on any part of the body, avoiding mucous membranes, open wounds, and direct contact with eyes. Kelo-cote should not be used on dermatological conditions that disrupt the integrity of the skin. For external use only. If irritation occurs, discontinue use and consult your physician. Keep this product out of the reach of children.
Price
We could not find any pricing information on the manufacturer's direct website, which means that they sell their products in retail stores and authorized online third party sellers. On the Kelo-cote website, Amazon and Factory OTC are listed, they both sell Kelo-cote for $99.99 for a 60-gram tube. Both offer free shipping. Additionally, Amazon sells Kelo-cote for $38.39 for a 20-gram tube. On either site, there are no discounts or options for buying in bulk.
Guarantee
We did not find any information about a money back guarantee at the time of this review. We are concerned that the lack of a guarantee might cause potential buyers to question the manufacturer's confidence in the product or the integrity of the product. On Amazon, we found both positive and negative reviews from customers. Since Kelo-cote can be purchased through Amazon, there is a limited guarantee that comes with most purchases. However, this was not clear regarding Kelo-Cote. Since return policies vary on Amazon, we suggest that you contact Amazon for further information.
Conclusion
The product has both positive and negative characteristics. We like that it is colorless, odorless and that it has been tested, and can be used for both old and new scars. We also liked that it is suitable for use on children and people with sensitive skin. The official web site of the manufacturer is quite sparse and does not provide a lot of information. We were not able to find any details of a guarantee or any customer reviews. Its lack of any kind of guarantee from the manufacturer puts in doubt the quality of this product since products of a similar nature usually come with a money back guarantee. Generally, Kelo-cote rated well on Amazon. However, this product did not contain as many ingredients as our top product. Before you decide to purchase it, consider both the positive and negative features to ascertain whether this is the best product for you. The positive characteristics of this product include safe ingredients and some positive customer reviews. The negative characteristics of this product include the lack of a satisfaction guarantee, several negative testimonials as well, and a high price.
Click here to learn about our Top Scar Products.
Joey Harrison
reviewed on and gave it a rating of
3
.