The #4 Rated Scar Product: Revitol
Revitol - #4
Scar Product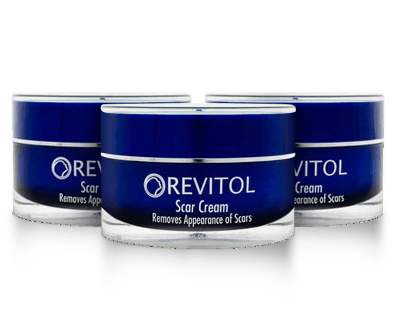 Revitol is a good all-natural product with healthy ingredients to help rejuvenate skin. This product falls short of our number one product because it only has a small amount of ingredients that can encourage the production of collagen, moisturize the skin and assist with scar healing.
EDITOR'S RATING
25 User Reviews
Introduction
Revitol is formulated with 100% safe, all-natural ingredients to help reduce the appearance of scars from injuries, acne, burns, and surgery without the use of chemical ingredients.* Although Aloe Vera, Safflower Seed Oil and Vitamin C were included, we would like to have seen several other key ingredients in their too, such as Onion Bulb Extract.
As you read on, you will find out more about this product.
Ingredients
Tricaprylin, Water, Ethoxydiglycol, Acetyl Hexapeptide 8, Glyceryl Stearate and PEG 100, Butyrospermum Parkii Shea Butter, Phospholipids, Macrocystic Pyrifera Extract, Pantothenic Acid, Retinyl Palmitate, Ascorbyl Palmitate, Aloe Barbadensis, Tocopheryl Acetate, Sodium Hyaluronate, Leaf Juice, Vitamin A Palmitate, Butylene Glycol, Liposome Delivery System, Palmitoyl Pentapeptide 4, Polysorbate 20, Borago Officinalis Seed Oils, Dipalmitoyl Hydroxyproline, Carthamus Tinctorius Seed Oil, Glycerin, Alpha Lipoic Acid, Glycerin Ubiquinone, Potassium Sorbate, Diazolidinyl Urea, Sodium Benzoate, Hydroquinone, Dimethylaminoethanol, Copper Peptide, Retinol,
Dosage
It is recommended to apply this scar cream at least two times a day. Using a tiny portion of this scar cream. The user must massage and spread throughout the affected area in a simple and wide circular motion. When this product is applied on the scar, the skin will absorb the ingredients in less than 3-5 minutes.
Possible Side Effects
There are no listed side effects for Revitol Scar Cream. However, the manufacturer does warn consumers of possible allergens in the formula.
Price
There are three available packages: one 2 oz. jar of Revitol Scar Cream sells for 39.95, 3 jars (buy 2 and get 1 free) for $79.90, and 5 jars (buy 3 and get 2 free) for $119.85. If you wanted to buy any other quantity other than the ones included in these bundled deals, you are stuck paying the price of an individual jar with no discounts.
Guarantee
You may return any unused and unopened item purchased from us for any reason within 90 days of your purchase. If you purchased your merchandise through a "Buy Three, Get Three Free" or similar offer, all items must be returned in order to receive a refund. If you return a partial amount of merchandise, you will forfeit the free product and receive a refund on the discount price per item based on the total purchase. They do not accept items back that have been opened or used. Shipping and handling fees are non-refundable. There is a $10.00 restocking fee for returns. The manufacturer reserves the right, at its sole discretion, to reject any return that does not comply with these requirements.
Conclusion
Revitol can be helpful for scars if used for long periods of time. This product came in at number four due to the fact that it did not have as many helpful ingredients to benefit all types of scars. Revitol does provide a full 90-day money back guarantee, so you can try the cream out with no financial risk. However, it is only for unopened or unused items and they also charge a restocking fee. We do not think this is a fair practice and consumers should not have to incur this expense. Another distinct disadvantage to this scar cream is that it happens to have an unpleasant smell to it, that can be bothersome for some users.
To learn more about our Top Scar Products, click here.
Joey Harrison
reviewed on and gave it a rating of
3
.