The #2 Rated Scar Product: Talsyn-CI
Talsyn-CI - #2
Scar Product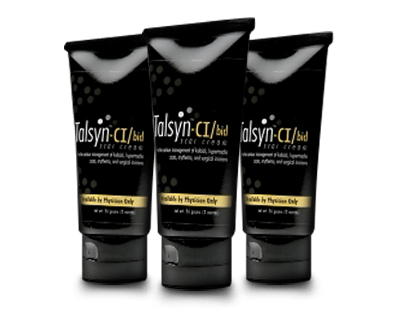 Talsyn-CI contains some good ingredients to help reduce keloid, surgical and hypertrophic scars.* It came in at #2 because it didn't completely cover as many types of scars as our #1 product.
EDITOR'S RATING
38 User Reviews
Introduction
This is a review for Talsyn-CI. This product contains some good ingredients to help reduce keloid, surgical and hypertrophic scars.* It came in just under our top product because it did not completely cover as many types of scars as our number one product. This product contains a long list of ingredients, both active and inactive, providing a peptide formula derived from lipids and fatty acids along with certain botanical extracts to nourish the skin. This product is intended to be used in the early stages of scarring.
Read on to discover more about the benefits and disadvantages of this product and ascertain whether it is suitable for you.
Ingredients
Aqua Water, Glycine Soja Oil, Aloe Vera Barbadensis Gel, Calophyllum Inophyllum Oil, Palmitoyl Tripeptide-3, Propylene Glycol, Dimethicone, Polyacrylamide and C13-14 Isoparaffin and Laureth-8, Glycerin, Algae Extract, Rosemary Extract, Rosehip Extract, Sandalwood Extract, Bergamot Extract, Yarrow Extract, Mango Extract, Chamomile Extract, Ginger Extract, Sweet Almond Oil, Jojoba Oil, Hemp Seed Oil, Ginseng Extract, Lanolin, Tocopheryl Acetate, Diazolidinyl Urea, Methylparaben, Propylparaben, Polysorbate 80, Fragrance.
Dosage
Apply a small amount of Talsyn-CI Scar cream with a clean fingertip directly to the affected area. Use enough cream to completely cover the area and gently work into the skin. Apply twice daily, once in the morning and again prior to bed. The area may be covered with a clean bandage if desired, however, this is not necessary. The affected area should first be cleaned and thoroughly dried.
Possible Side Effects
Talsyn is safe to use with all clothing and will not damage or stain fabric. Redness may be experienced. However, since everyone is different, your experience may differ from others. If you are unsure about using this product or are pregnant or nursing, currently taking other prescription medication, or are someone with a medical condition, you should first speak with your doctor before you use this product. If you notice any adverse reactions, you should immediately discontinue use.
Price
Talsyn-CI sells for $39.95 a 2 oz. tube. Only two units can be purchased at a time. You can save 10% on your second tube by getting the Talsyn-CI 2-Pack. The manufacturer recommends buying two units at least, if your scar is greater than a few inches. It is recommended to use Talsyn-CI for at least 6-8 weeks to achieve optimal results on new scars and for improvement on old scars for 9 to 12 weeks, but it depends on the age and condition of the patient.
Guarantee
Talsyn-CI is backed by a 30 day satisfaction guarantee. Dissatisfied customers may return these items for a full refund within the 30 days of purchase. Products must include original packaging and contents. All shipping/handling charges are the responsibility of the customer, and will not be refundable.
Conclusion
Talsyn-CI has a good formulation to help reduce keloid, surgical and hypertrophic scars. This product seems easy to use and would appear to have produced good results. There is a returns policy, which means that you can feel safe trying the product out. However, there were a few negative comments about its performance. Additionally, there is a possibility of redness as a side effect. We would have liked to have seen more key known ingredients.
Click here to learn about our Top Scar Products.
Joey Harrison
reviewed on and gave it a rating of
3
.